Now we know to control our locomotive from Rocrail, we'll see how to declare the turnout. This is little more complicated.
First, they must be defined on the central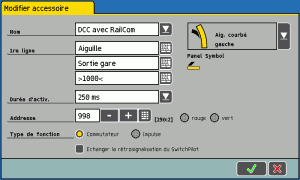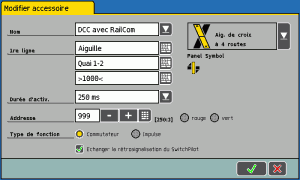 Our "curve" turnout has the address 998 (250 group – position 2), our "dual junction" turnout has the address 999 and 1000 (group 250 – Position 3 & 4).
To recall, there may be 2048 accessories, or 512 groups (512 x 4 = 2048).
There is very little information to provide Rocrail : the turnout title, the protocol and address.
You will notice that it is possible to reverse the order. For our double junction, I had to juggle to find the right address and reverse position.
Be careful, when you start Rocrail, turnout position indicated by Rocrail does not necessarily correspond to the true position of the turnout (the TCO). The easiest way is to activate all the turnouts.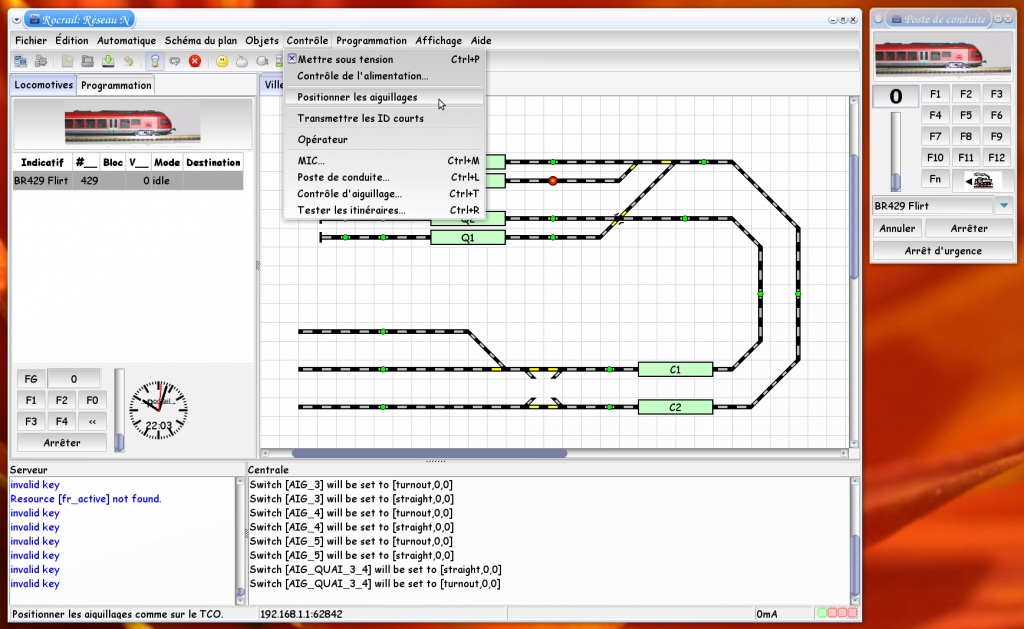 Si vous avez bien suivi la configuration de Rocrail et de l'Ecos, le retour d'information sur la position des aiguilles est activé. Lorsque l'on active une aiguille depuis Rocrail, la position est mise à jour sur le TCO de l'Ecos et de même, si on active l'aiguille depuis la centrale, Rocrail est notifié du changement et met à jour la position de l'aiguille.
If you followed the configuration of Rocrail and Ecos, feedback on turnout position is on. When a turnout is set from Rocrail, the position is updated on the TCO of the Ecos and if you activate the turnout from the central, Rocrail is notified of the change and updates the position of turnout.