To better view the results, the rail curves, distances… I took the time to draw the layout on my work plan.
It's step is very import. I recommend it.
The result :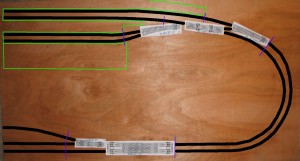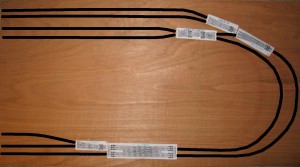 To do it, I need the turnout templates for N gauge code 55. I have contacted the Peco company to request them. I thank them for the quick reply.
So, I printed with the good scale the turnout and I drew my scheme.
With the Peco's permission, I share with you the PDF documents.
N gauge code 55 point templates
At this time, I prefer the first layout, even if the second offers an import train stations (for the long trains).
You can see the dock and the station. We can also see the cantons. Each cantons will be splitted to three blocs.